Improve CX with an online sizing solution

Yasmin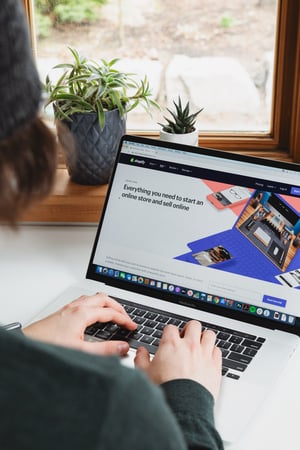 In recent years, technological innovations have been implemented in various industries, including the fashion industry. In the times we live in today, where technology is the norm, many companies still find it hugely important, but also difficult, to make it for the customers and users, as personal as possible. How do you leave off all the technical stuff and make the customer feel like they are getting one-on-one attention? Not as easy said as done. In this article, you will read how to improve your customers' online shopping experience to ensure that viewers become buyers. Spoiler alert: Personalisation and Interaction are a must!
Smart online retailers know that an extremely good CX (customer experience) means meeting the needs and wants of online shoppers. Therefore, e-commerce managers, online retailers and AI experts are constantly looking for new ways to learn more about the users of their platform. To gather insights about the use of an online store, fashion retailers are integrating AI and machine learning to get to know their customers better, as well as to make it a better, simpler shopping experience.
Besides learning and gathering insights from shoppers' online usage, personalization and interaction is also very important. Let's break down these two as well:
Personalisation
Successful online retailers know better than anyone else that the secret to satisfied shoppers is a personalized shopping experience. That's why e-commerce managers do everything they can to make their shoppers feel royally fulfilled, and it works like a charm. When a shopper has a positive shopping experience and feels connected to your online store, both your sales and customer loyalty increase. An efficient way to generate more profits. Why wouldn't you do it? Although it brings so many benefits, a lot of online shops have not yet implemented a personalized shopping experience because there are a lot of things to consider, such as data problems, mathematical complexity and outdated back office systems.
It is of utmost importance to describe size and fit as well as possible on your webshop. Shopping online is not the same as shopping in a store, and to keep the profit and conversion of your shop high, you also want as few returns as possible. So you do everything possible to prevent this, and that's why it's important to communicate how something fits. Previously, this was only done with text, photos and a jungle of size charts. Today you can integrate innovative tools in your shop, such as an online size assistent.
Interaction
Without knowing it, many shoppers need support during their online shopping moment. From start to finish, they want to know there is someone there to help them if they get stuck somewhere. For example, a lot of webshops still use size charts, but those are so old-fashioned by now and almost impossible to figure out. So when it comes to sizing, customers find it extremely helpful if there is someone or something, such as an online sizing assistent, that can help them. And since we now live in a customer-centric era, this can't be missing from your online shop. Also, integrating chatbots can help with this, but reaching out to your customers via social media, sending out newsletters and attending trade shows are definitely recommended. The return process must also be clear and simple if you want your customers to keep coming back loyally. Try to simplify this as much as possible and ask them to give you the reason for returning clearly, so you can get some new data insights yourself and so you learn how to avoid this in the future. A few suggestion can be found here in our previous blog post
These are just a few ways to ensure accessibility and comfort for you webshop users. The goal of an online shopper is not to measure and appreciate the advantages of your web shop. Their goal is to get what they came to the page for. That one pair of pants in the right size. So our task is to help them achieve this goal!